A production by portraittheater Vienna
about the inventor of the frequency hopping system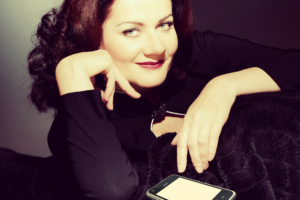 Starring Anita Zieher
Director: Sandra Schueddekopf
Hedwig Eva Maria Kiesler was born in Vienna on November 9th, 1914 as the daughter of a jewish bank manager and a pianist. At the age of sixteen she left school and started to work at the Sascha Film Company. There she was cast in her first films, acting opposite Heinz Rühmann and Hans Moser, among others. Eventually, Max Reinhardt "discovered" her and hired her for a play about Empress Sisi at the Theater an der Wien. When she acted in the Czech-Austrian movie "Ecstasy", in which she appeared nude and seemingly sexually aroused, she gained scandalous notoriety—and fame. She married the owner of the Hirtenberger munitions factory, Fritz Mandl, and retired from acting for him. In her husband's home she witnessed numerous discussions on weapons systems and ammunitions. Eventually she fled from this marriage and, on her ocean voyage to New York, met film boss Louis B. Mayer who hired her into a 7-year contract with MGM. In Hollywood she was marketed as the "most beautiful woman in the world", acting alongside international stars such as Clark Gable and James Stewart, and celebrating her biggest success with the old-testament film "Samson and Delilah". She was married six times and had three children.
The fact that she wasn't just beautiful but also smart and inventive was only revealed to the world towards the end of her life.
During the World War II she supported the USA against the National Socialists, helping out in the Hollywood Canteen and selling war loans. At a party she met the avant-garde composer George Antheil. Together they developed a system that enabled the uninterrupted guidance of torpedoes, the so-called frequency hopping system. In August 1942 the two of them received the patent for their invention. But the US military was not interested in this technology. The film studio insisted that she not discuss her invention in public, so as not to damage her reputation as a film beauty.
In the 60s Hedy Lamarr gradually withdrew from film. She only caused a stir with instances of shop lifting and a sensationalized autobiography penned by a ghost writer. It was during the Cuban Missile Crisis that her invention finally was put to use, as the frequency hopping system proved to be a bug-proof means of communication. The technology's breakthrough came when it was adapted for use in mobile phones as the foundation for wireless data transfer via Bluetooth and Wifi. At the age of 83 she was honored for her invention with the Pioneer Award of the Electronic Frontier Foundation. Further awards followed. Lamarr did not return to Austria, but she received an honorary grave at the Vienna Central Cemetery. On the date of her birthday (November 9th) Germany, Austria and Switzerland celebrate "Inventors' Day".
In "Changing—A Hedy Lamarr Story", portraittheater presents highlights of Hedy Lamarr's life in the span of 30 minutes. Anita Zieher brings this contradictory woman to life in a humorous and moving way, directed by Sandra Schüddekopf.
A production by portraittheater
Duration: app. 30 minutes
Language: German or English
for events like conferences, festivals, meetings dealing with the topic women in STEM
Actress: Anita Zieher
Director: Sandra Schüddekopf
Text: Sandra Schüddekopf, Anita Zieher and original quotes from Hedy Lamarr
Music/video: Rupert Derschmidt
Costume: Elke Gattinger
Photo: Reinhard Werner
Make-Up photo: Karin Bogner
Required equipment: video projector, sound and lighting system, 1 table, 1 chair, 1 whiteboard or flipchart
The text was written for the play "Curie_Meitner_Lamarr-INDIVISIBLE" by Sandra Schüddekopf und Anita Zieher.
Contact for performances: office(@)portraittheater.net