Links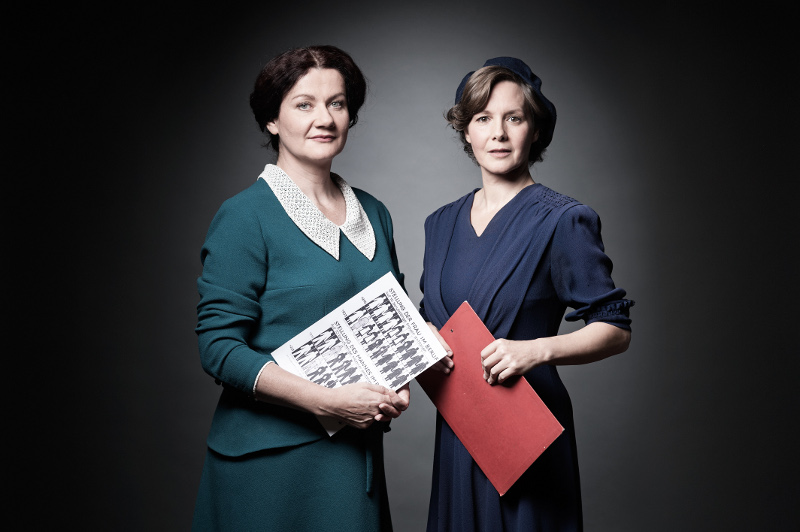 A coproduction by portraittheater
with the Chamber of Labour Upper Austria and Theater Drachengasse Vienna
Käthe Leichter (1895 – 1942) and Marie Jahoda (1907 – 2001) were two Austrian pioneers in the field of employment research. Their life-memories and the important achievements of their work are at the centre of the play, "Women at work – Käthe Leichter and Marie Jahoda" directed by Sandra Schüddekopf. During this exciting 90-minute play Anita Zieher as Käthe Leichter and Brigitta Waschnig as Marie Jahoda portray these two women, against a backdrop of politically moving times. With this play portraittheater shows how the subjects they dealt with have lost none of their actuality today.
Reviews:

"The director, Sandra Schüddekopf succeeds skilfully in engaging the two heroines in dialogues consistently during the 90-minute play." (Der Standard)

"A focussed production that puts a current situation into a contemporary historical perspective." (Falter, recommended as "best of the week")

"… they are brilliant in their roles." (Kulturfüchsin)

"Wow! Two such strong women. And still not well-known enough." (Kurier)
Käthe Leichter (1895 – 1942) became known as the first director of the women's department in the Vienna Chamber of Labour. She conducted studies on the working conditions of women and is nowadays considered the forerunner of women's studies. She was politically active during the 20's and 30's in Vienna and fought against the rise of Fascism in Austria regardless of the consequences this might have for her life. In 1938 she was arrested by the Gestapo and was killed in the Ravensbrueck concentration camp in 1942. Her husband Otto Leichter and their sons Henry and Franz could escape to the USA. Both sons studied law and engaged in politics, Franz Leichter was a senator in New York for many years.
Marie Jahoda (1907 – 2001) achieved worldwide recognition mainly as the author of the study, "The Unemployed of Marienthal", which she wrote with her then-husband Paul Lazarsfeld and Hans Zeisel. Because of her political engagement she was imprisoned by the Austrian Fascists. In 1937, after some foreign appeals to release her, she could leave prison on the condition to leave the country immediately. In Great Britain and in the USA she continued her research on the social function of work as well as on prejudice research and mental health. She held positions as a professor at New York University and Brunel University. In 1965 she became Professor of Social Psychology at the University of Sussex.
Performances in German or English as of 2019
Duration: app. 90 minutes
Text: Sandra Schüddekopf and Anita Zieher, with original quotes from Käthe Leichter and Marie Jahoda
Director: Sandra Schüddekopf
Käthe Leichter: Anita Zieher
Marie Jahoda: Brigitta Waschnig
Stage: Eva-Maria Schwenkel
Music: Rupert Derschmidt
Costumes: Cinzia Cioffi, Marlene Auer
Assistence, dramaturgy: Olivia Rosenberger
Photos: Reinhard Maximilian Werner
Make-Up Photos: Karin Bogner
Project manager: Anita Zieher
Partner: AK Oberösterreich – Kultur, Theater Drachengasse Wien
Theater Akzent, Arbeiterkammer Wien, BMWFW, BMB, MA 7 – Wissenschafts- und Forschungsförderung, Stadt Linz – Frauenbüro, Land Oberösterreich – Abt. Soziales
Contact
office@portraittheater.net
+43 699 19580874
Anita Zieher, actress, project manager
Video (German)